Visiting Zanzibar
Here's everything you need to know for planning your visit:
Accommodation
We recommend that visitors to the festival stay in or near Stone Town. Please make arrangements as soon as possible, as most hotels are booked well in advance.
---
Flights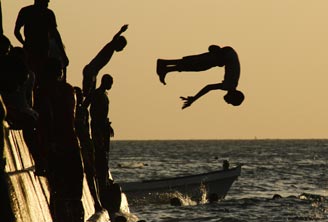 Zanzibar has international scheduled flights served by Ethiopian Airlines (via Addis), Kenya Airways (via Nairobi), KLM (via Amsterdam), Air France (Via Paris), Lufthansa (via Frankfurt), Edelweiss Air (via Zürich), Oman Air (via Muscat), Qatar Airways (via Doha), flydubai (via Dubai), Turkish Airlines (via Istanbul) and more. Also regional flights are served by Precision Air, Fly540, Uganda Airlines and RwandAir.
Alternatively, Dar es Salaam is served by Egypt Air, Swiss Air, South African Airways, Emirates and others, with local connections to and from Dar available with Coastal Aviation.
---
Visas
The requirements and rules regarding visas vary according to your nationality and country of residence. Please check well in advance.
---
Ferries
Zanzibar is served by a number of ferry companies to/from Dar es Salaam. There are several fast hydrofoil crossings daily (2hr) plus several slower vessels(4hr). Non Residents should expect to pay up to US$50 incl port tax one-way.
---
Local transport
Taxis from the airport can cost up to US$15.
Taxis anywhere within town up to US$5. There are also "boda boda" motorcycle taxis for less than US$2.
For airport, and elsewhere on the island, people use "dala dalas" shared minibuses. They tend to leave once they are full and stop often to drop and pick passengers – so not the quickest, but affordable and fun.
---
Vaccination information
Please note if travelling from certain countries, certificate of vaccination against yellow fever is required.
---
Covid-19 requirements for travellers arriving in Zanzibar
Based on the current global epidemiological situation and emergence of new variants of viruses that cause COVID-19, the Revolutionary Government of Zanzibar has decided to strengthen preventive measures especially with regard to International Travel as follows:
All travellers (except for children below age of 5) will be required to present a negative COVID-19 test certificate upon arrival. The test should be based on Real Time Polymerase Chain Reaction (RT-PCR) taken within 72 hours before arrival to Zanzibar.
Please bear with us, to test and or vaccinate against Covid-19 in Zanzibar, some countries are subjected to have rapid test at Point of Entry at a cost of USD 25. To skip long queues for manual payment upon arrival, book Rapid test for arrival and pay online (Mastercard/Visa) using the following link: https://zanzibarcovidtesting.co.tz
NB: The list of countries will be updated based on WHO daily updates on COVID-19 variants.
A negative COVID-19 test result on departure from Zanzibar is not needed by travellers, unless required by the airline or country of destination.
While visiting Zanzibar you may also be interested in some of the following:

Spice Tours
Dolphin Tours
Dhow and Sunset Cruises
Safari Blue Day Out
Prison Island Tour
Jozani Forest Tour
Diving and Snorkeling

Zanzibar is a peaceful location inhabited by peaceful people. However, it is in the best interest of all visitors to "wise-up" on a few simple "dos and don'ts".

Please avoid walking around with more valuables than you need, especially late at night, or on the beaches.

Please be mindful that what maybe quite "normal" behaviour or dress-code in some cultures may invite attention or cause offence in others.

Zanzibar in February can be hot and sunny. Think about sun protection (sunglasses, sun cream and loose baggy clothes). Also, in the streets of Stone Town, please respect that showing too much flesh may offend local (Muslim) standards.

Bring your camera – and any special batteries. Town power is 240v and mostly square pin sockets (like UK). Internet is widely available.

Some restaurants and hotels have WiFi – so you might consider bringing that laptop or tablet.

Obviously, there will be opportunities for beaches and swimming. Plastic shoes or sandals are recommended for shoreline walks at low tide.
NOTICE – NO PLASTIC BAGS
Since June 2019 Tanzania has banned the importation and use of all plastic bags including Duty Free Bags. Ziplock bags are permitted, as these are not expected to be disposed of in the country.